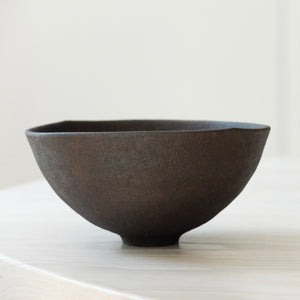 Takahashi McGil Sycamore Hachi bowl 2
Maker: Takahashi McGill
 Handmade in UK
Dimensions: ⌀ 16.5cm x  H 8cm
Materials: Sycamore wood 
Method: Hand turned and finished with Sabi-urushi
Care Instructions: Please note; this item is a natural product, please avoid storing in the sunlight and heat. Not suitable for dishwasher or microwave. 
Description:
Handcarved by Takahashi McGill, the renowned collaborative duo who create beautifully delicate hand turned pieces made from wood, such as ash and beech. This exciting new body of work is finished with an assortment of urushi, which helps to make the wood waterproof and durable. The rich organic shades compliment the refined texture and reveals the natural characteristics of the wood. The distinct mark making from their mastered technique glides through the form, resulting in an exquisitely tangible form.
A hand turned hachi bowl made from sycamore wood, inspired by Japanese traditional crafts. The textured exterior is coated with Urushi, a Japanese lacquer. In contrast to this, the interior is smooth and highlights the natural markings in the wood. The urashi lacquering process demands a meticulous approach, with the necessity of applying several layers of lacquer, as well as the perfect, humid temperature, for the lacquer to dry. Takahashi McGil's pieces are made with functionality in mind, to be used as tools for daily life. 
About the Artist:
Takahashi McGil are an artistic duo comprised of husband and wife, Mark McGilvray and Kaori Takahashi, who met at Wimbledon School of Art where they both studied Fine Art. Mark is from South Africa and Kaori is from Japan and the pair now live and work in Devon, where they are part of the Devonshire Guild of Craftsmen. The pair combine Japanese and Western techniques, traditions and tools in their functional furniture and homeware designs. Originally, their pieces were intended solely for personal use, but their company was happily formed in 2016.