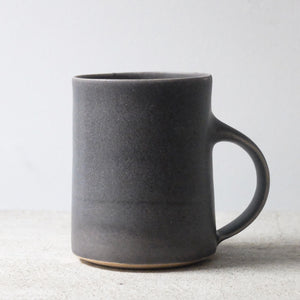 Will Papworth Matte Grey Mug
Maker: Will Papworth
Handmade in England.
Dimensions: Ø 13cm x H 11cm
Materials: Stoneware clay with matte grey storm glaze 
Method:  Hand-thrown
Care: Dishwasher safe
This understated mug exhibits a purity of form and masterfully balanced weight when held in the hand, with a fine, thin rim and gently curved handle. Its matte grey 'storm' glaze is ever so slightly mottled as if reminiscent of smoke, with an intricately speckled surface pattern from its firing. As with all of Papworth's functional works, this repeated form reflects his deep appreciation of simple, ergonomic design. Features such as tactility and practicality are of fundamental importance to the artist - the way an object feels in the hand means as much as its aesthetic qualities.
About the Artist:
Will Papworth (b.1996, Somerset, England) is a ceramicist and photographer, currently working in East Sussex. Papworth received his First-Class BA in Fine Art at Kingston School of Art in 2019. His final year studies saw him sit for the first time at a potter's wheel and he has been captivated by clay ever since. Following graduation, Papworth built himself a simple working studio in his garden, where he makes his ceramics. His work is entirely self-taught, and here he spends his time practising, researching and learning more about his craft. Most of the artist's work is hand-thrown, creating stoneware, earthenware and porcelain ceramics encompassing both functional tableware and works of art.