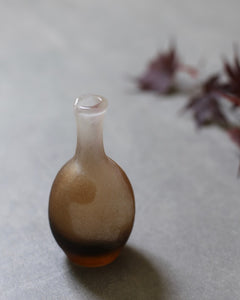 Aki Sakaida 'Kuyuri' Vase 10
Maker: Aki Sakaida*
Handmade in Japan 
Dimensions: H 11cm x W 5cm x L 5cm 
Materials: Glass 
Method:  Smoke-stained with burnt wax
Care Instructions: Please note that it is not heat resistant glass.
Description:

This vase is elegantly shaped, with a rounded form that tapers inward to a slender neck. The glass surface appears to have been brushed by frost, lending it a subtle glimmer and a frosty texture. Strokes of brown contrast a pale hue to create patterning. The neck is colourless, giving it luminosity and a darker hue of brown at the base visually grounding the vessel with solidity. The colours are inspired by nature's palette, with subtle shifts in hue emphasising the elegant shape. The harmonious connection between colour and form emphasises the charm of this piece.
About the Artist
Aki is an artist working with glass who lives and works in Akita City. She graduated from Akita Municipal Junior College of Arts and Crafts in 2012 and worked at Toyama Glass Studio for 5 years before moving back to her hometown. In her sixteenth year of working with glass, she has participated in many group exhibitions across Japan and the UK.
Her body of work titled 'Kuyuri' focuses on smoke-stained with burnt wax which often unintentionally resembles an image of a natural scenery. She hopes that the burn marks from the wax will create an emotional response that resonates with people. Aki's glass work mediates on the multifaceted forms and chromatic palettes in nature, with richly textured tones.