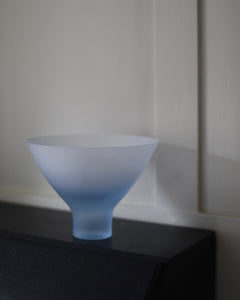 Celia Dowson Sky Vessel
Maker: Celia Dowson
Handmade in the UK 
Dimensions: Ø 29cm x H 14cm
Materials: Glass
Method:  Moulding and casting
Description

In Celia Dowson's diverse collection of glassworks, a stunning piece merges in the form of a large open vessel. This enchanting creation reflects the boundless depths of water in a tangible art form.
Crafted from heavy Banas glass, this blue-hued vessel carries the weight and gravitas of the ocean's mystique. The wide circular opening is akin to a liquid pool, inviting contemplation of the vastness of water.  A long, slender stem holds the body confidently, defying gravity in a delicate elegance. It is the anchor that connects this mysterious vessel to the grounded world. 
What makes this piece exceptional are the beautiful, small glass droplets suspended within its body. These droplets, like liquid memories, are frozen in time, capturing a fleeting moment of water in its purest form. As you gaze upon them, you feel the weight of stillness within their serene beauty.
Dowson's vessel is a testament to the interplay of water's strength and tranquil nature. Water has boundless horizons and profound mysteries. These feel embodied here in the solid, graceful, smooth embrace of this enchanting glasswork.
About the Artist
Celia Dowson is an artist whose ceramics and cast glass objects go far beyond their functional use. Celia graduated with a BA in Ceramic Design from Central Saint Martins in 2014, before receiving her MA in Ceramics and Glass from the Royal College of Art in 2018.
 Celia works with the different properties of glass and porcelain to evoke the movement of nature in different ways. Her porcelain vessels represent evolving landscapes, mountainscapes and seascapes through marks and gestures. Her glass pieces vary in thickness, causing subtle gradations in colour. This reflects the colours, changing light and mystery of the natural world.