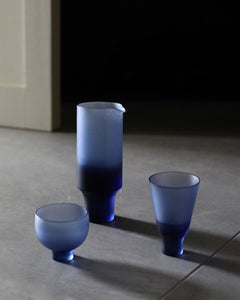 Celia Dowson Sake Set in Indigo Blue
Maker: Celia Dowson
Handmade in the UK 
Dimensions: 
Large: Ø 6.5cm x H 14.5cm
Medium: Ø 5.5cm x H 8.5cm
Small: Ø 6cm x H 5cm
Materials: Glass
Method:  Moulding and casting
Description

Celia Dowson's Sake Set in Indigo Blue is an artistic ode to the tranquil and ever-changing nature of water. This three-piece ensemble, created from exquisite Bullseye Glass, resonates with the essence of liquid. 

The two smaller pieces possess a soft, tactile quality that mirrors the gentle caress of water. In contrast, the larger piece stands as a testament to the deep, profound allure of water. It boasts a welcoming lip, an invitation to pour from its depths and absorb the fluidity of the indigo blue hue. 
Each piece reveals a large, circular opening adorned with angular yet smooth, tactile curves, reflecting the dichotomy of water's nature, simultaneously gentle and powerful. Perched gracefully on small, deep stems, these glass pieces encapsulate smooth perfection in form. The deep blue colour is a visual echo of the depths of the ocean, and a reminder that beauty lies in the unfathomable expanse of water.
Celia Dowson's Sake Set in Indigo Blue is not just glass; it is a vessel for artistic contemplation, inviting you to delve into and discover the symphony of water's grace and depth.
About the Artist
Celia Dowson is an artist whose ceramics and cast glass objects go far beyond their functional use. Celia graduated with a BA in Ceramic Design from Central Saint Martins in 2014, before receiving her MA in Ceramics and Glass from the Royal College of Art in 2018.
 Celia works with the different properties of glass and porcelain to evoke the movement of nature in different ways. Her porcelain vessels represent evolving landscapes, mountainscapes and seascapes through marks and gestures. Her glass pieces vary in thickness, causing subtle gradations in colour. This reflects the colours, changing light and mystery of the natural world.