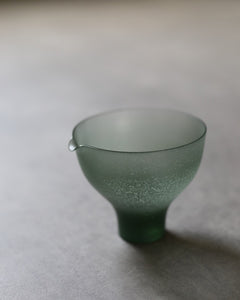 Celia Dowson Spruce Mist Pouring Jug
Maker: Celia Dowson
Handmade in the UK 
Dimensions: Ø 8cm x H 9cm
Materials: Glass
Method:  Moulding and casting
Description

This 'Spruce Mist Pouring Jug' by Celia Dowson is a captivating reflection of the fluid grace of water, seamlessly intertwining with the artistry and craftsmanship of glass. Like the serene flow of a tranquil stream, its green hue exudes a calming presence, inviting a gentle touch to trace its surface which holds delicate glass droplets within. 
This piece's opening, wide and circular with a small pouring lip, stands upon a smaller stem reminiscent of the depths of an ocean, though in a small and modest scale. The dimensions and unique form mirror the subtle variability found in water's form. 
This work is a silent, soft harmony of artistry that mirrors the ever-changing nature of water. It captures a moment where form, structure and tone unite, akin to a stream, allowing viewers to contemplate the enigmatic flow of both water and art.
About the Artist
Celia Dowson is an artist whose ceramics and cast glass objects go far beyond their functional use. Celia graduated with a BA in Ceramic Design from Central Saint Martins in 2014, before receiving her MA in Ceramics and Glass from the Royal College of Art in 2018.
 Celia works with the different properties of glass and porcelain to evoke the movement of nature in different ways. Her porcelain vessels represent evolving landscapes, mountainscapes and seascapes through marks and gestures. Her glass pieces vary in thickness, causing subtle gradations in colour. This reflects the colours, changing light and mystery of the natural world.