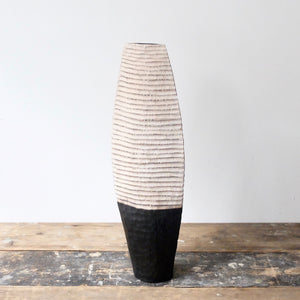 Malcolm Martin and Gaynor Dowling Tall Black and White Vessel 1182
Maker: Malcolm Martin and Gaynor Dowling
Handmade in UK
Malcolm Martin and Gaynor Dowling's work uses English hardwoods, worked by hand with axe, gouges and drill. The pieces contrast strong frontal images with individual textures made one mark at a time without preplanning.
Material:  Limed and Scorched Oak 
Dimensions:  47 cm x 17 cm x 5 cm


As all products are handmade sizes and colour may vary slightly.
Malcolm Martin and Gaynor Dowling are collaborative wood artists who have lived and worked together in Stroud, Gloucestershire, since 1997. Their different artistic backgrounds, in Fine Art and Textiles respectively, inform a practice that is simultaneously sculpture and craft. Martin and Dowling's vessel-sculptures, which explore dimensionality and vary significantly in size and shape, are made with traditional hand-tool techniques. Meticulous and repeated carving, in a manner similar to drawing, results in the textured and patterned surfaces which celebrate their making-process.


First exhibiting together in 2002, Malcolm Martin and Gaynor Dowling have since participated in numerous exhibitions, and their work is represented in many prestigious collections across the world, including the Philadelphia Museum of Art, Boston Museum of Fine Art, USA, Birmingham City Museum and Art Gallery and Fitzwilliam Museum, Cambridge.