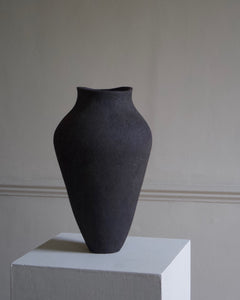 Enriqueta Cepeda Black Vessel 13
Maker: Enriqueta Cepeda
Handmade in Sweden.
Dimensions: W 21cm x H 35cm
Materials: Stoneware
Method: Pinching and coiling
Care: Watertight, wipe dry after use 
Description:
This organically organic shaped vessel by Enriqueta Cepeda, was created using pinching and coiling methods, the artist's hands and some additional tools. A new surface for Enriqueta richly textured, with exquisite vertical lined mark makings. Enriqueta achieves these marks by scraping the surface of the clay to reveal underneath, or by smoothing over the exterior with a stone before the firing process. She does not use a glaze, and instead celebrates the original characteristics of the clay, resulting in the beautiful, natural colours of each piece.
About the Artist:
Enriqueta Cepeda is a ceramicist living and working in Stockholm whose designs and making process take inspiration from ancient pottery. Enriqueta draws on the ceramic practices of different ancient cultures and interprets them in her own way, such as the Pueblo Indian technique of burnishing and polishing pots after firing. The Japanese concept of Wabi-Sabi is also significant to Enriqueta's creations, and informs the simplicity and asymmetry that they display.