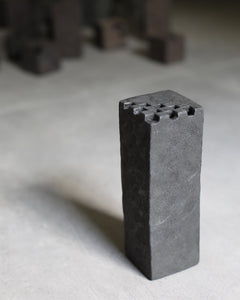 Kouzo Takeuchi Koro Vessel 3
Maker: Kouzo Takeuchi
Handmade in Japan
Dimensions: W 6cm x L 6cm x H 18cm
Materials: Black clay 
Method:  Hand built
Care: Watertight, dry after use
Description

This Koro vessel celebrates beauty in simplicity with a rectangular form, allowing for an appreciation of the tones and textures of the surface. The textural quality gives the piece charm and tactility, taking on a rough surface and dark hue. Cube-shaped indentations create crenelations on one of the vessel's faces, harmoniously following the geometric form. With a timeless feel, this vessel emits an aura of tranquillity.
About the Artist
Born in Hyogo, Japan, Kouzo Takeuchi graduated from the Osaka University of Arts in 2001 and followed by Tajimi Municipal Ceramic Design Institute, Gifu, in 2003.

His sculptural ceramics works were born through a fascination with geometric shapes, and inspiration from the ancient ruins in South America. His interest in the themes of decay combined with a goal to create beautiful objects, creates enticing architectural forms, with surfaces reminiscent of weathered stone, both strong and delicate.

With his works displayed in exhibitions around the world in both public and private collections, including Victoria & Albert Museum and the Museum of Fine Arts Boston, Takeuchi has fast become an established name in ceramics.