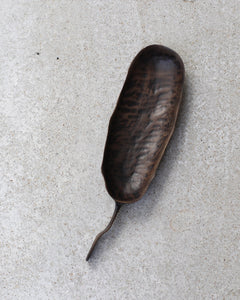 Marie Eklund Birch Spoon (3)
Maker: Marie Eklund*
Handmade in Sweden.
Dimensions: L 16ccm x W 5cm 
Materials: birch 
Method:  hand carved 
Care: Treat the spoons with a drop of linseed oil, polish with for instance greaseproof paper for a shiny surface. Do not wash in the dishwasher
Description

A beautifully refined sculptural spoon with slim handle and enlarged bowl with a lightly textured surface. Impeccably handmade by Marie Eklund, using nothing but an axe and a knife to create different shapes. She uses the elements fire, water and earth to achieve contrasting tones, complimenting the natural characteristics of the wood.
About the Artist
Marie Eklund is an artisanal woodworker based in Sweden who creates handmade objects that embody a pure expression of the art of carving. She works with minimal tools to create intricately refined surfaces, using nothing but her axe and carving knife, revealing her masterful hand.
Spending half her time in Stockholm and the other half in Tångeråsa - a small village which is the home of quaint Swedish houses, and her source of inspiration. Her work has been exhibited in selected galleries across Europe and North America.