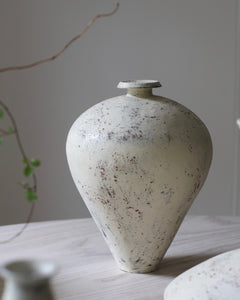 Tetsuya Ozawa White Vessel 8
Maker: Tetsuya Ozawa
Handmade in Japan.
Dimensions: Ø 26.5cm x H 24cm 
Materials: Black Clay, sourced locally to the artists home town, Tokomame.
Method: The body of this elegant vessel is made from black clay. A traditional Japanese glazeis then applied, Chara, and 'kofuki', a dusting technique, to create his interesting and uneven surfaces. Following the firing process, white soil is applied in a thin layer, enhancing the rough texture of the piece.
Care: This piece is functional, however, please note a distinct and traditional feature of these pieces is that oil and water may be absorbed slowly into the surface affecting the appearance of the vessels and plates over time. This is an inherent part of the artist's work. Hand wash after use.
Description:
This beautifully crafted white vessel rests on a narrow base that gradually increases in breadth following up the body. The sloping form grants the piece gentleness and elegance. A dainty neck sits upon the body of the vessel and the opening is accentuated by the lip that juts out with a degree of angularity. This vessel plays with textures and tones, subtly revealing glimpses of the underlying surface's earthy hues. The flecks and strokes contrast the white hue of the vessel, adding intrigue and enhancing the rough surface. The uneven texture and the subtle glisten of the white surface provide the piece with a complexity. Meticulously crafted, the vessel has a beautifully balanced silhouette with a timeless feel. It embodies the versatility of Ozawa's works, allowing for individual interpretation, use, and purpose. 
About the Artist
Tetsuya Ozawa originates from Tajimi, Gifu Prefecture, but now lives in Tokomame City, Aichi Prefecture, which has been celebrated for its ceramic production since the Heian Period (794-1185). Ozawa's decision to be a ceramicist was made early on, and he graduated in 2008 with a degree in Japanese Fine Arts from Nagoya University. He went on to train under Yoshikawa Masamichi. Ozawa's tableware creations reconcile inspiration taken from modern crafts, tea culture and folk arts.