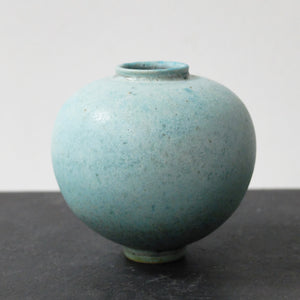 Yuta Segawa Moon 26
Maker: Yuta Segawa*
Handmade in the UK.
Dimensions: ø 9 cm x H 8 cm 
Materials: Clay with unique glaze 
Method: Hand-thrown 
Care instructions: Water-tight
Description
An understated, miniature moon jar with a full-bellied form and masterfully balanced weight when held in the hand. Its unique glaze is predominantly of a chalky turquoise, exhibiting a matte, slightly grainy finish and gentle, intricate speckling. When viewed from its underside smoke grey patterning is revealed. Challenging himself through working in miniature and pushing the boundaries of what the body can produce on a small scale, Segawa's masterful technique sees him throwing miniature vessels and jars 'off the hump', wherein tiny forms proliferate from one large, centred block of clay on the wheel; a magical process to behold which is at once evocatively poetic and technically precise. This work is impactful as a stand-alone piece or as part of a collection.
About the Artist
Yuta Segawa studied Industrial, Interior and Craft Design at Musashino Art University in Tokyo, before completing an internship at The Pottery Work Shop in Jingdezhen, China, and an MA at Camberwell College of Arts in London. He specialises in producing miniature pots, which are hand-thrown and hand-finished, using more than a thousand specially developed glazes which encompass the entire colour spectrum. Positioning them in large groups, to magical effect, or as individual pieces that sit in the palm of the hand, his work plays with the imagination. He works with various clays such as porcelain, terracotta and stoneware, experimenting with texture, and has had solo exhibitions in London, The Netherlands, Dubai, Tokyo and China.