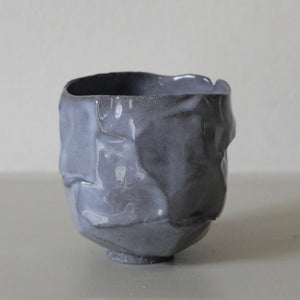 Annette Lindenberg 'A foggy morning' sake cup 30
Maker: Annette Lindenberg
Handmade in UK.
Dimensions: W cm x H cm
Materials: Grey clay with blue glaze
Method: Hand Sculpted, Kurinuki (the Japanese technique of hollowing solid clay)
Care: Functional, wipe dry after use
Description: 
The beautiful yunomi cup is finely handcrafted by artist Anette Lindenberg using kurinuki, the traditional Japanese technique of carving from a single block of clay. The cup is glazed in Lindenberg's pale blue glaze, playfully applied to show variation in the colour tone of the glaze and capturing the fluidity of glaze before firing. More evenly applied glaze on the smooth interior of the bowl shows a faint hint of a warm lilac hue, giving it an almost luminescent quality. White specks visible through the thinly applied tinted glaze hint at the sandy texture of the body. Details like the small white marking at the base of the interior conforms to the wabi-sabi aesthetic which complements the simple, finely sculpted asymmetrical form of the cup — the rounded belly and narrower base resembles an endearing and graceful tulip shape, comfortably curving into the palm.
The piece elegantly treads a balance between delicate softness and jagged roughness, reflecting the artist's interest in natural geomorphic forms and influence from the Japanese aesthetic theory of wabi-sabi – an appreciation for beauty in imperfection. This combination results in a mesmerising rawness and warmth that is simultaneously intimate and subliminal. The unglazed bottom exhibits the original rough clay body, finished with the neat maker's mark.
About the Artist:
Annette Lindenberg is a German/British ceramicist, originally from Austria, whose work focuses on Kurinuki, the Japanese method of hollowing and carving blocks of clay. Prior to her MA, Annette graduated from Cardiff Metropolitan University with a BA in Artist: Designer Maker. She has exhibited at the British Art Fair at Saatchi and the London Art Fair with the gallery Modern Clay.
Over her time at the Royal College of Art she has explored artistic glazing, experimenting with new formulations, unusual application techniques and methods of firing. Her range of tea bowls and cups explore her personal connection to the sea, an interest in geology and clay carving method.