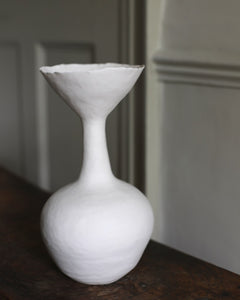 Ditte Blohm Rie 6
Maker: Blohm
Handmade in UK.
Dimensions: D 17cm x H 31.5cm 
Materials: Porcelain 
Method:  Hand-built
Care: To clean wipe with a damp cloth 
Description:

With an elegant form, this porcelain vase sits solidly with a  rounded form that flows inwards to a gracefully elongated neck. From the neck,  a delicate opening proudly bursts outwards, to create a charming funnel-like structure. The thin edges are subtly scalloped, enhancing the charm. The vase's surface is smooth with subtle indentations and displays a pale cream hue that lends to the timeless allure. Thoughtfully crafted, this vase captivates a harmonious blend of strength and fragility. 
About the Artist
Ditte Blohm was born in Denmark, and has a background in fine art and specialised in experience based pieces. Ditte is especially drawn to the medium of porcelain. Her work is inspired by merging attitudes of danish and Japanese design, focusing on the Japanese ideology of the imperfect, impermanent and incomplete, against the inherent serenity of the Scandinavian design aesthetic.