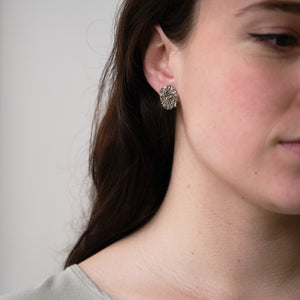 Romilly Saumarez Smith Lichen Earrings
Maker: Romilly Saumarez Smith
Handmade in UK.
Method: 
Diamond beads and small silver pieces are secured either side of a drilled out plate to build up these landscapes entirely by hand.
Description:
Inspired by lichen on old trees, these textured earrings are covered in 18 carat white gold "shingle", suggesting the raised edge of moss like plants growing over gnarled ancient bark. The detailed seeds of pearl, diamond, and white gold are woven together within the surface of the piece, mimicking the symbiotic nature of the lichen and the tree.
About the Artist
An inspiration to Romilly, Robert McFarlane's The Wild Places reads that "true wildness is hard to find any more but it is still there in the tiny plants, mosses and lichens that live between rocks and tussocks. They are complete worlds in themselves."
"I hope that my jewellery might be like that"
mimicking and honouring nature is central to Romilly's work;
"It's a long process of buildup, a random design that looks completely meant. The making of a piece of jewellery takes time, the placement of small elements doesn't need to be planned too much but builds slowly to a whole."
 As she can no longer use her hands to make the pieces, Romilly builds her jewellery through her 'Translators', her assistants whose hands have in her words become her own and bring to life her imagination and designs.