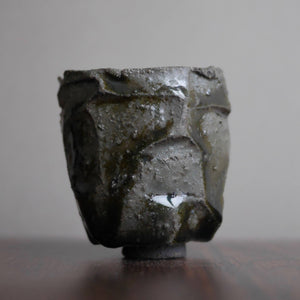 Annette Lindenberg 'Deep Seaweed' Yunomi 1
Maker: Annette Lindenberg
Handmade in UK.
Dimensions: W 9cm x H 8.5cm
Materials: Rough Black Stoneware and Deep Green Glaze
Method: Hand Sculpted, Kurinuki (the Japanese technique of hollowing solid clay)
Description:
This precious charcoal grey ceramic vessel by artist Annette Lindenberg is made from rough black stoneware, with a deep green glaze. She describes it being inspired by "soft washes of seaweed over volcanic sand and rock from time spent at my grandmothers in the canary islands."
Handcrafted by Lindenberg, she skilfully uses her intuition to layer each individual form, alternating between subconscious and conscious design and material decisions. The rock like forms evolved through experimentation with mixing materials and utilising her carving capabilities. This piece is exquisitely tactile, moving from smooth to rough surfaces in the interior and exterior. It holds very interesting ridges across the body, emphasizing Lindenberg's unique making processes.
About the Artist:
Annette Lindenberg is a German/British ceramicist, originally from Austria, whose work focuses on Kurinuki, the Japanese method of hollowing and carving blocks of clay. Prior to her MA, Annette graduated from Cardiff Metropolitan University with a BA in Artist: Designer Maker. She has exhibited at the British Art Fair at Saatchi and the London Art Fair with the gallery Modern Clay.
Over her time at the Royal College of Art she has explored artistic glazing, experimenting with new formulations, unusual application techniques and methods of firing. Her range of tea bowls and cups explore her personal connection to the sea, an interest in geology and clay carving method.