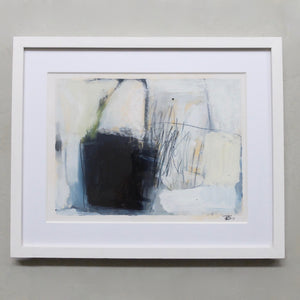 Barry Stedman Framed pencil, pastel and gouache painting
Maker: Barry Stedman
UK
Pencil, pastel and gouache on paper.
Barry Stedman "I tend to work in series influenced by natural phenomena, places, and emotions, developing ideas from drawing, painting and previous firings. I like the warmth and brightness of earthenware using slip, oxides and underglazes, over a red clay body. The surfaces are created in layers, firing in between using thin washes, wiping back and building up rich zones of colour. I then glaze chosen areas to add further depth, tone and texture."
Dimensions: H43cm x W53cm (including frame)
As all products are handmade sizes and colour may vary slightly.
Barry Stedman is a British artist who works with ceramics, painting, sketching and drawing. Since 2009, Stedman has been a part time assistant at the studio of renowned ceramicist Edmund de Waal, after graduating with First class Honours degree in ceramics at Westminster.
He currently creates from his home and workshop in Bedfordshire.
Both Barry's ceramics and paintings have been exhibited in galleries in the UK and abroad, including Ceramic Art London 2017.