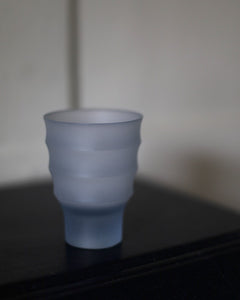 Celia Dowson Flow sculptural glass
Maker: Celia Dowson
Handmade in the UK 
Dimensions: Ø 7.5cm x H 9.5cm 
Materials: Glass
Method:  Moulding and casting
Description

Within the realm of Celia Dowson's glass artistry, a unique piece emerges, capturing the essence of water's serene movements. These small glass works stand as a poetic tribute to the rhythm of waves, each possessing a circular opening reminiscent of liquid pools. 
The defining characteristic of these pieces is the subtle ripples in their bodies. Each ripple tells a story of water's constant transformation, revealing the gentle caress of currents and the quiet, eternal journey of water. Crafted from the clarity of Banas Glass, these pieces embody the purity and translucence of water. Balanced on a small stem, the glass work's ripples appear to float. This design adds to their ethereal quality, inviting contemplation of water's ever-changing nature and its ability to hold stillness within its flow. 
Dowson's glassworks are vessels of artistry, capturing the impermanence, stillness and beauty of water. The ripples in these works are a testament to her mastery, offering a glimpse into the captivating, ever-evolving world of water, all elegantly suspended within the medium of clear glass.
About the Artist
Celia Dowson is an artist whose ceramics and cast glass objects go far beyond their functional use. Celia graduated with a BA in Ceramic Design from Central Saint Martins in 2014, before receiving her MA in Ceramics and Glass from the Royal College of Art in 2018.
 Celia works with the different properties of glass and porcelain to evoke the movement of nature in different ways. Her porcelain vessels represent evolving landscapes, mountainscapes and seascapes through marks and gestures. Her glass pieces vary in thickness, causing subtle gradations in colour. This reflects the colours, changing light and mystery of the natural world.