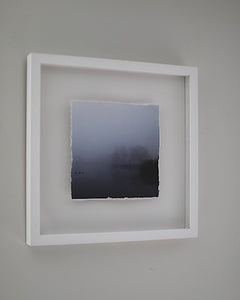 Felicity Keefe 'The quiet lake 1'
Maker: Felicity Keefe
Handmade in UK
Dimensions: H 20cm x W 20cm 
Materials: Digital print on handmade paper
Method: Simple prints, digitally manipulated and crafted onto handmade paper, leaving edges raw and revealed. 
Description
This work is a diptych from Felicity Keefe that submerges viewers into the tranquil beauty of twilight, with water as the silent protagonist. The foggy lake at the heart of the artwork represents water as a reflective and mysterious element. The family of ducks crossing the silent, icy-blue lake is a symbol of the harmonious relationship between wildlife and water, emphasising its role as a source of life and serenity. The distant trees, appearing as black as the fog, highlight water's ability to create a boundary between the known and the unknown, much like the transition between day and night.
About the Artist
Felicity Keefe currently lives and works in Bath, UK. She has exhibited in galleries throughout the UK, Stockholm, Amsterdam, Paris and Singapore, and at all of London's major Art Fairs. Keefe's contemporary landscape paintings are inspired by her experience of the British landscape as it changes and reacts to seasons, weather and time. She is inspired by the blending of traditional landscape, literature and personal mythology. Her work is distinctive for its sense of atmosphere, often brooding, but also starkly beautiful. In Keefe's art we see time working its magic in front of us. Nature is in constant transition, and this motion and fluidity is caught by Felicity through exquisite colours and striking tones.
"My work is inspired by states of flux, the change from day into night, summer into winter, calm into storm, outward into inward. The paintings have both an environmental and a metaphorical meaning for me and operate on both levels. They physically depict the essence of the landscape as it is effected by the changes in seasons and time, but they also describe an inner state of movement, flow and division."