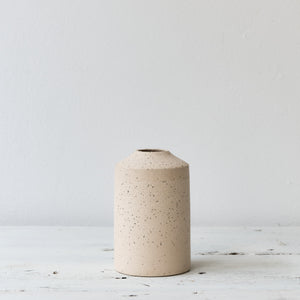 Mizuyo Yamashita Core Vase 9
Maker: Mizuyo Yamashita
Handmade in UK.
Dimensions: W 6 cm x H 9.5 cm
Materials: 
Method: 
 Hand-thrown vase. Made on the potters wheel, using a combination of three different clays, this exquisite object has a natural, unglazed finish allowing for the clays natural qualities to be revealed.
Description:
A beautiful vase, hand-thrown on the wheel by artist Mizuyo Yamashita. This exquisite, cylindrical form is small and lightweight. It is unglazed, revealing the stone-like, natural material. It has beige hues, with chocolate brown flecks as a result of the combination of clays she uses - a mix of stoneware, porcelain and stone grains. This work is unglazed on the interior, and has a raised opening. Mizuyo skilfully carves each piece with a chisel, a popular Japanese process called Kezuri.  
About the Artist
 Mizuyo Yamashita is a London based ceramicist. 

Mizuyo is strongly inspired by the everyday use of lifestyle products, creating hand thrown small objects on the potter's wheel, blending three different types of clay and glazed in natural muted tones. 

Originally inspired by English and French stoneware jars, Mizuyo began creating their miniature forms, gradually changing their designs and surface decoration.

Using surfacing treatment techniques, popular in Japan, such as shinogi, mishima and kohiki, with the aim of creating pieces to match modern European interior design. Mizuyo's forms display an interesting combination of the artists inspirations and influences.