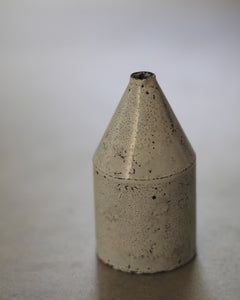 Motomu Oyama Enamel cone vase 7
Maker: Motomu Oyama
Handmade in Japan
Dimensions: Ø 8cm x H 13cm
Materials: Iron and enamel
Method:  hand forged
Care: Watertight, however, due to the nature of the material the surface, piece will age over time 
Description

This enamel cone vase demonstrates exquisitely crafted metalwork. With a cylindrical body, the vessel meets at an edge and slopes inwards to form a cone with a small circular opening. The vase is coated with a white glaze, allowing the underlying surface to peak through to create patterning and textural intrigue. The glances of iron are used as a means of accentuating the edges. In doing so, it takes on a weathered look that celebrates beauty in the process of change over time, like the rusting of metal. By melding together a beautiful silhouette and textural surface, the metalwork is presented with softness and elegance.
About the Artist
One of Japan's leading blacksmith artists, Oyama grew up in Tokyo and started his career as an illustrator after studying painting at an art school in Tokyo. Since then, he has worked in commercial art, and currently works as a metal artist in a studio in Yamaguchi Prefecture. He mainly makes lighting, flower vases, tea utensils, and objects made of iron. The artist has held group and solo exhibitions at galleries throughout Asia, Europe, and the United States.
He is perhaps most well known for his iron works. Oyama's work explores the beauty and properties of iron and is inspired by the lush nature that surrounds his home in Kumage, Japan.
Oyama was first introduced to iron work after being commissioned to create a 3D metalwork piece; he was so mesmerised by the beauty and potential of iron that he has not stopped working with it since.
His practice continues to evolve as he experiments with the material, attempting to understand its properties more deeply. Because the properties of iron – the way it rusts, melts and bends – will never change, Oyama has described how he must therefore keep an open mind to change his perception of the material rather than vice versa.
Oyama is able to create works which feel soft and polished, rather than heavy, industrial or cold as iron is often thought to be. In doing so, the artist creates a different visual language for this ancient craft of blacksmithing.