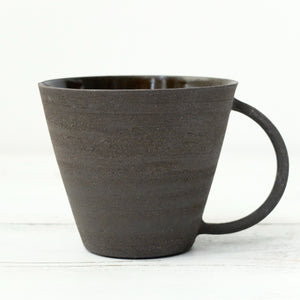 Samuel Sparrow small cup
Maker: Samuel Sparrow
Handmade in UK
Wheel thrown cup with black brown matt exterior and gloss interior.
Dimensions: H-7 cm x W-8 cm 
Samuel Sparrow is a potter and maker based in Dumfries and Galloway, Scotland. He produces wheel-thrown tableware and objects in stoneware.
Having studied Design at Glasgow School of Art, he went on to work for Habitat and Ikea before turning away from mass production and establishing a studio based on his own design principles.
His work aims to celebrate simplicity and functionality, highlighting the inherent beauty of objects that are made by hand.
"From the moment I sat down at a wheel I knew that I had found my place. Is there any other discipline that encompasses so many processes? From the meditative action of centering, the physicality of wedging clay, to the alchemy of glazing and firing. At the end of a day in the studio I'm tired, fulfilled, satisfied, in both body and mind. I sleep well." - Samuel Sparrow