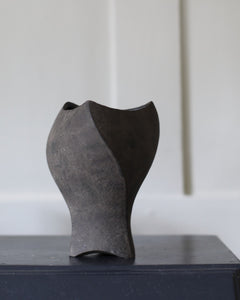 Takada Kae Black rust twist vase
Maker: Takada Kae
Handmade in Japan
Dimensions: Ø 15cm x H 18cm 
Materials: Japanese red clay and white pottery clay
Method: himozukuri
Care: Watertight, wipe dry after use
Description

This charming Black Rust Twist Vase takes on a unique form, playing with edges and curves to invite curiosity. The vessel's body stands tall with three vertical edges that subvert expectations. Instead of linearity, the edges curve around the vase's body, creating a sense of mouldability. At the opening, these edges create their own point, with dips on the rim between each point. With the dappling of charcoal tones with the rough texture, the surface plays with light and shadow, almost evoking the softness of suede.
About the Artist
Born in 1971 in Nagoya City, Aichi Prefecture, Japan, Kae graduated from the Product Design Department at Nagoya Zokei University and from the Aichi Prefectural High Technical College of Ceramics in Seto City. 
Having worked at a pottery factory in Seto City and running a pottery class in Nagoya City, Kae now makes ceramic works in Morimachi, Shizuoka Prefecture.