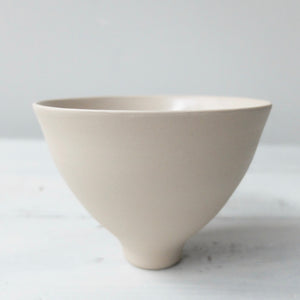 Tanya McCallin pale buff stoneware vessel TM74
Maker: Tanya McCallin
Handmade in UK
Wheel thrown pale buff stoneware vessel.  Fired at 1260c the bowls exterior is sanded to a smooth finished and the interior is finished with a pale buff glaze.
Dimensions: w11cm x h8cm
As all products are handmade sizes and colour may vary slightly. 
Born in Cambridge and studied at Central Saint Martins, Tanya McCallin comes to working with ceramics from a long and successful career in theatre set design. Tanya explains how she "longed for a more 'real' and 'solid', less ephemeral material to work with."  "I think about ceramic forms in terms of space and light, weight, scale and surface, inside and out, but also of ideas, use and value."
Hand thrown and sometimes hand finished using porcelain, stoneware and earthenware bodies, Tanya uses the vessel as a way to express a quality of strong, quiet permanence using simple, elemental and essentially abstract forms. .
Tanya is interested in the forms relationships to each other and the architectural spaces they inhabit.