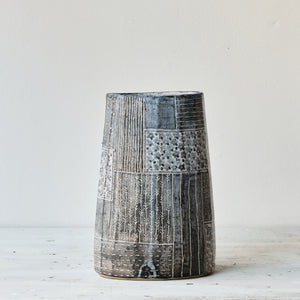 Yo Thom Tall Vase 1
Maker: Yo Thom
Handmade in UK.
Dimensions: W 12.5 cm x H 23 cm
Materials: Stoneware
Method: these pieces are hand thrown, then Indigo slip is applied onto leather hard clay and the work is decorated using sgraffito technique, before being bisque fired and glazed with a matt white glaze.
Description:
This tall, stoneware vase is handmade by artist Yo Thom. The elegant artwork sits perfectly and features an oval shaped opening. The artist embellishes the vessels using indigo slip with sgraffito decoration, with a white glaze on top. Thom's skill and eye for detail allows her to create unique patterns which are distinct to her practice. This piece has beautiful white lines on the surface, as well as a rich blend of hues beneath. They depict marks that she has discovered in her surroundings. 

  
About the Artist: 
Yo Thom was born in Tokyo, Japan. Arriving in UK in 1996 to study 3D design. After the first introductory year, she chose Ceramics and completed her MA in Ceramics in 2000.
She then set up her own studio in Deptford, London in 2004 and producing stoneware and porcelain tableware pieces, as well as experimenting with some food firing. In 2009 she relocated to Shaftesbury, Dorset where she now lives and works, inspired by the beautiful patchwork countryside that surrounds her home.
Yo's work is thrown and hand-built functional stoneware with influence from Both British and Japanese traditional pottery and food cultures.
Her work is shown widely in UK, France and Japan.