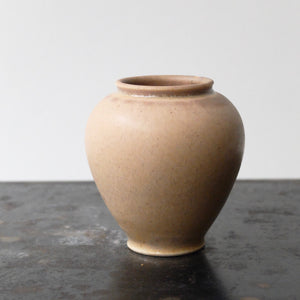 Yuta Segawa miniature vase - extra large 818
Maker: Yuta Segawa*
Handmade in the UK 
Each of Yuta Segawa's miniature vases are hand thrown on the wheel and finished with their own unique glaze.  Yuta often finishes the shaping of the smaller vases with chopsticks.  These miniature vase are impactful both as individual pieces and as groups.  
Dimensions: H9cm x W7cm 
As all products are handmade sizes and colour may vary slightly.
Yuta Segawa studied Industrial, Interior and Craft Design at Musashino Art University in Tokyo, before completing an internship at The Pottery Work Shop in Jingdezhen, China, and an MA at Camberwell College of Arts in London. He specialises in producing miniature pots, which are hand-thrown and hand-finished, using more than a thousand specially developed glazes which encompass the entire colour spectrum. Positioning them in large groups, to magical effect, or as individual pieces that sit in the palm of the hand, his work plays with the imagination. He works with various clays such as porcelain, terracotta and stoneware, experimenting with texture, and has had solo exhibitions in London, The Netherlands, Dubai, Tokyo and China.